August 3rd, 2017
Geraldo discusses the misplaced comparison of Russiagate and Watergate; the dust up between CNN's Jim Acosta and President Trump's senior Policy Advisor Stephen Miller over their heated back exchange in the White House. Miller had a hard time proving that a new immigration bill is not discriminatory, does not violate the Constitution or what the Statue of Liberty stands for. Geraldo also has some sound advice on how POTUS can get his poll numbers up.
Visit the podcast website
Fox & Friends
Decertifying Iran
10-14-2017
Donald Trump decertifies the Iran deal, how will congressmen react? The revelations about Harvey Weinstein & casting couch Hollywood.
Video
Fox & Friends
POTUS healthcare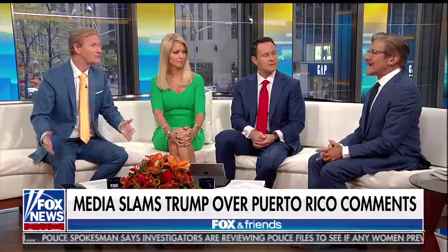 10-13-2017
President Donald Trump signs an executive order on healthcare. Will it increase access and lower costs?
Video